I wrote this a while back for my other blog:
(August 21, 2008)
In the spring, on impulse, I picked up a packet of mixed flower seeds. Why, I don't know...I've never, ever, even once, had any luck with seeds. Normally they're just an expensive gourmet bird food.
But I had the new flagpole surrounded by little plants, and there was a bit of space left, and this variety pack said "Easy Grow! Tolerates Neglect!" Well, that's all I needed to hear.
Once home, I dumped them into the dirt, covered them up, and forgot about them.
The flagpole is in the side yard, and I've been focusing on the back, so I hadn't paid too much attention. I took this picture on July 29, and called it "The Zinnia that will Take Over the World".
This is the same plant, a little over three weeks later.
Yes, I need to mow. Yes, the portulaca isn't quite as neglect-tolerant as advertised. Please ignore those; I'm trying to think of something else for next year.
Here are some kids in front of it for some perspective. The Boy is exactly 48 inches tall, and they are standing on a 2 inch thick stone.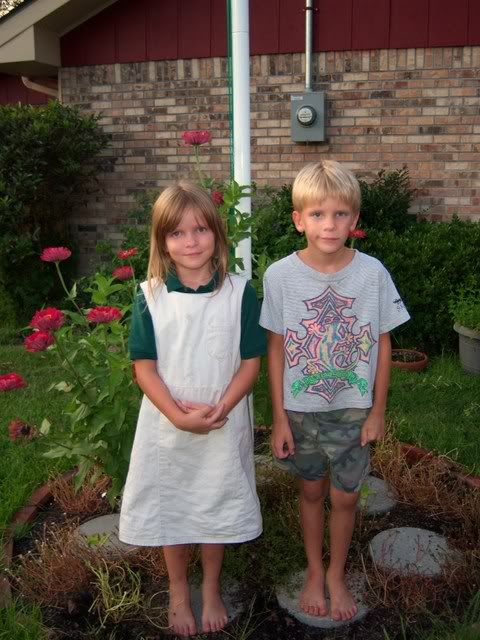 Hubby says the tallest blossom is at 51 inches. The info I found says they grow around 3 feet tall - possibly bigger if treated with "tender care". Wow. I wonder how big it would be if I didn't completely ignore it?
So I'm saving the seeds. Who knows? I would love to have a row or two of those next year.
By the way - that is the ONLY plant to grow from that entire packet of seeds.
/end part one
____________________________________________
Interestingly, the very next week a storm roared though, I forget the name...the named one before Gustav, I think. It gave us a minimal amount of rain and a pretty stiff wind. The next day I went out and found this:
The thick stem (more like a trunk) of the zinna had split. Three ways! I was sure it was a goner. I cut off all the pretty flowers to put in a vase. May as well enjoy them while I could....and I pulled off the few dried seed pods to save for next year. I started to pull up the remains of the plant, but I left it. I was feeling lazy, and more than a little bit dejected, thinking to myself that nothing lives for long in MY garden.
I forgot about it for a few days. When I finally noticed it, I was amazed! The broken stems had curved back up to meet the sunlight, the buds that were left after I cut the blooms were blooming, new buds had formed. I hadn't touched it, other than to cut the flowers off with a long stem.
Yep! The main parts of the stem are STILL broken. I can't see how they could possibly still sustain life. Look at all those blooms, all those smaller side shoots popping out.
I can't explain it. It seems miraculous to me, because it looks impossible. It seems like there must be a message there, something spiritual maybe...maybe it's that God can take what looks impossible, and do great things with it. God can take something broken, and make of it something beautiful, even while still broken. And then add butterflies and hummingbirds (see header picture) to it for good measure. There must be a message in there somewhere.