Taking notes from this year's garden. So many things were purported to be "heat and drought tolerant". Ha!
So this is for next year when I am swayed by all the purty flowers.
More recent notes are in blue.
LSU Garden when first planted
LSU garden in later spring
LSU garden plants:
Brachycome
Then: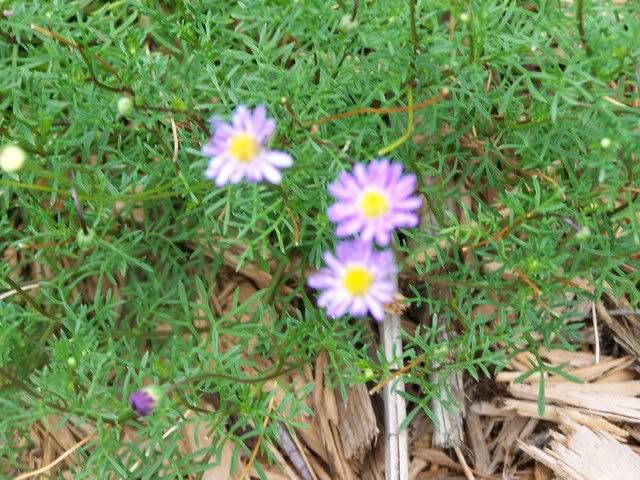 Now:
Verdict: Jury still out on this one. It's looking OK so far in the heat.
Info:
http://www.desert-tropicals.com/Plants/Asteraceae/Brachyscome_multifida.html
It died off that winter and didn't come back.
Blue Fan Scaevola
Then: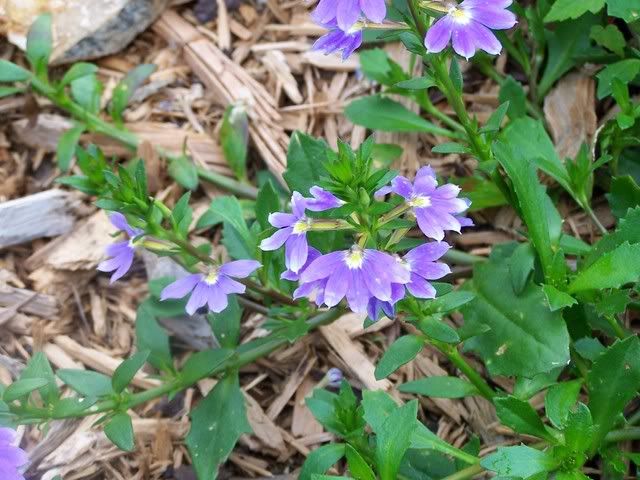 Now: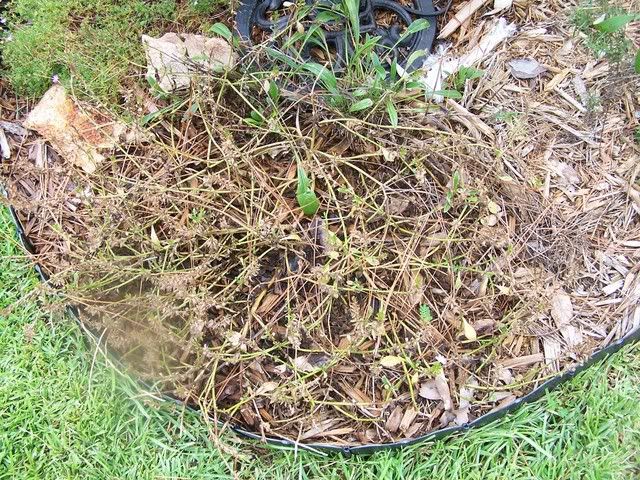 Verdict: Um. Not good. I'm fairly sure it was properly taken care of. Heat is supposed to be a fricking PLUS. I'm not going to pull it out yet, still in wait and see mode. I may cut it back and see what happens. Although from the info it seems like it should still be looking good. Grr.
Info:
http://www.naturehills.com/new/product/annualsdetails.aspx?prodid=2402&Campaign_id=69&user=shareasale&SSAID=71112
Never came back.
Butterfly Bush
It's the long purple flower in the top picture.
Overall I am pleased with this plant, although it's not as formal looking as I had first hoped. It gives the garden a wild look, not in a bad way really, just not what I originally envisioned. It came back great after last year, and flowers pretty profusely. If definitely attracts butterlies! Next year, if I can find a good spot, I would like to try some different colors of this plant.
Info:
http://butterflywebsite.com/articles/bgq/buddleia.htm
I need to find out if the butterfly bush needs to be deadheaded. I did it the first year but it never seemed to grow so I didn't this year. It grew, but looks horrible with dead things on it.
Need to find the name of this one: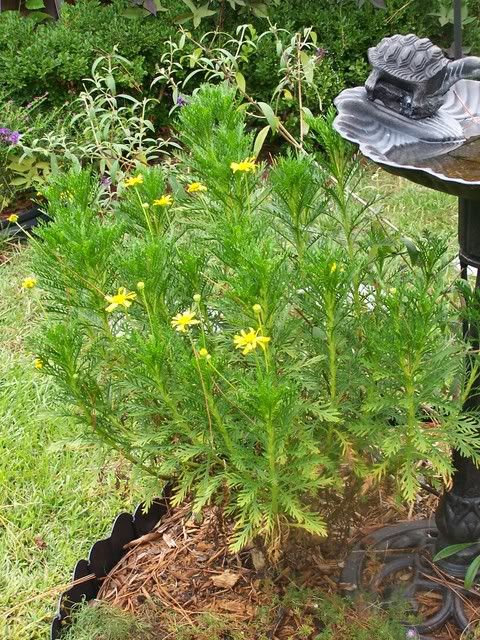 So far, I like it. It hasn't flowered the entire summer though, like it said it would. There was about a 6 week period of NO flowers at all. Not sure why. But at least the plant grew and looks good regardless.
Still looking pretty good, with or without deadheading.
Front gardens:
Whirling butterflies
Then: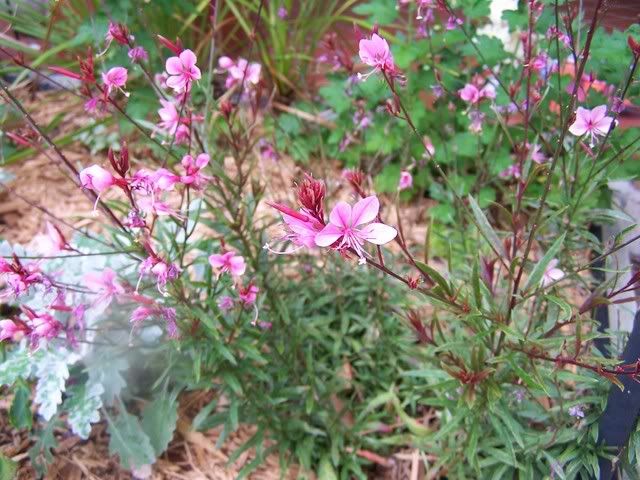 Now: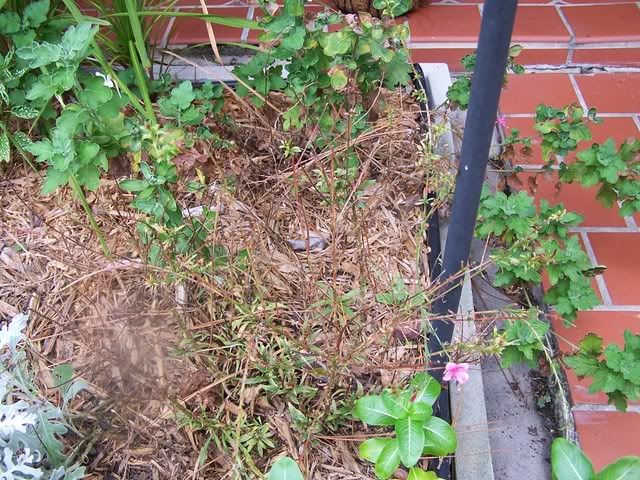 Again - a disappointment. I read that I should cut them all the way back and they will be nice again for the fall. We'll see.
Nope.
Need name of these white foliage things: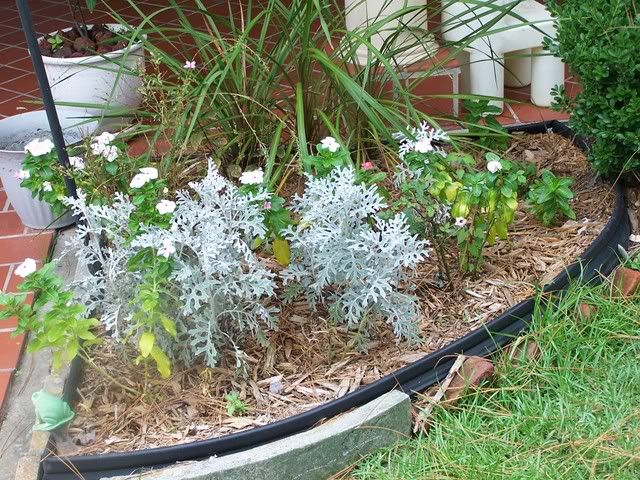 Those are a definite keeper. They are from LAST year and all I had to do was cut them back - they get pretty leggy, as they are looking now. They did not freeze back at all. I'm actually thinking of redoing this entire garden with those, some mums (bloom in fall) and begonias (bloom in spring and summer). That way I will have color all year round!
I did plant more and it didn't look as good as I expected.
Vincas: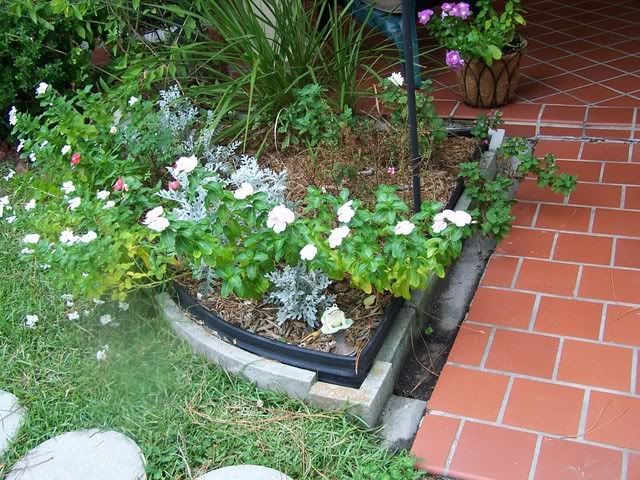 I like them, but I don't like them in this garden. They are heat tolerant, but very needy water-wise. As careful as I have been they are still yellowing, and I don't like how leggy they have gotten.
Don't know what this is:
But I like it. I'll see how it does over the winter. The sticks in front of it are butterfly weed, which was eaten by aphids. By the time the ladybugs found them it was too late. Hoping it will come back but leaving the stems right now so the ladybugs can clean up the buggies. No chemicals for butterfly gardens.
(ignore the weeds! LOL!)
Green thing died back and while it's not dead, it has only like 2 leaves on it. Milkweed never came back. Weeds holding strong. :P
Again, don't know name:
Then: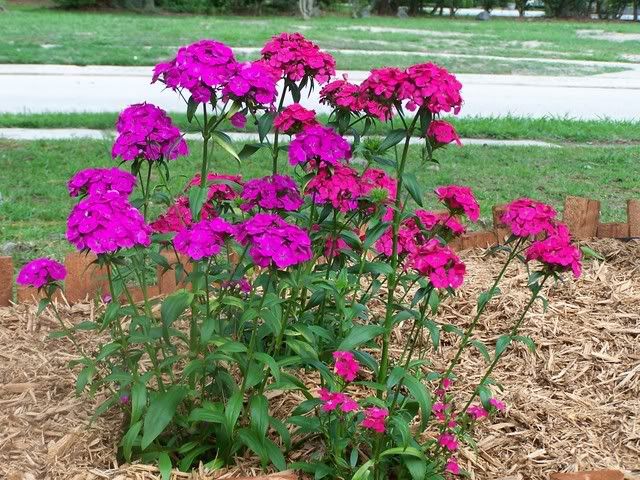 Now:
Nuff said. But they were so pretty when they were nice, that it may be worth it. They're supposed to be perrenial so we'll see if they come back.
Still don't know what it is, never came back, will buy again and treat as annual
Maypop (passion fruit vine)
It needs somewhere better to climb, like a fence. But this was the best I could do at the time. I like it and want other colors of it.
Tried to save it when we had the tree cut. It's in back by the herb garden and doing OK but not great.
Need name of the flower
I like it a lot and it's doing great although it was not in flower when I took the pic.
The vine is sweet potato vine. I like it, but it needs a fence or something too. I had no idea it would grow like this. I call it the vine that wants to eat my house!
Look how it grows in the bushes - it's as much as 15 feet long in some spots: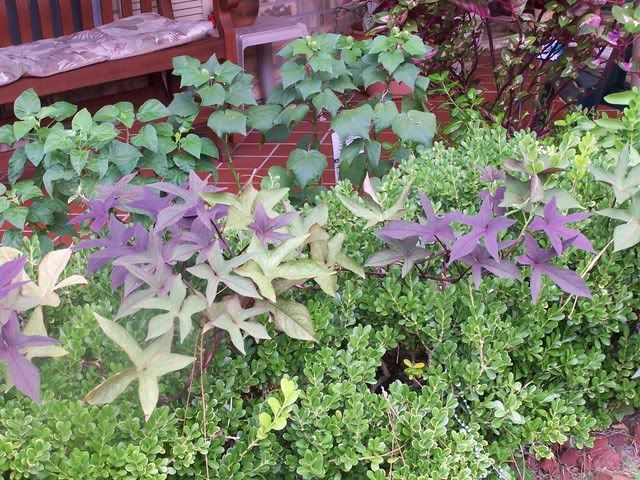 I would cut it back but it will die at first freeze anyway.
The Bird Garden: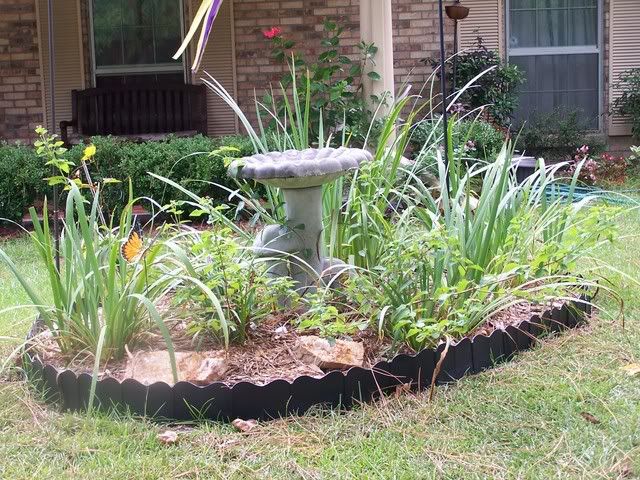 I love lantana. It was also not flowering at the time, but full of buds. Perennial, doesn't freeze, impossible to kill, many colors, how can you argue with that?! It does look wild, but I planned that in this garden anyway. These are red. Butterflies and hummingbirds love them!
I also have pink up by the house:
Note the Mexican Heather in the above pic. I can't say enough good about this plant. I love it, and I have yet to manage to kill it!
Here, it's perennial, although in northern zones it's an annual.
Hydrangeas and begonias don't like it here so much:
Probably need something in the soil. And for sure to get rid of weeds.
They look just good enough yet to not give up on.
They look worse, but not dead. Story of my garden life. :(
Potted plants on porch:
Shrimp plant. Nothing to say but YEAH baby!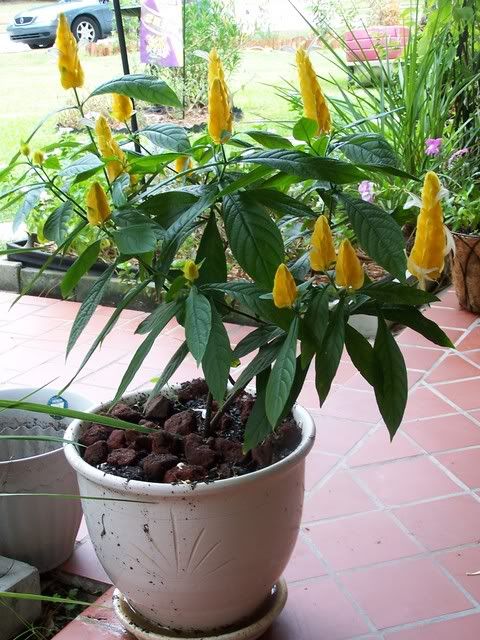 I don't think it would do well in the ground though. It also comes in different colors and I would like to try more.
Apparently praising a plant causes it to die. LOL. No, it froze even though it was up by the house. I would still buy it again, this one lasted 2 years.
More vincas. Can you say high maintenance?? But they were a Mother's Day gift.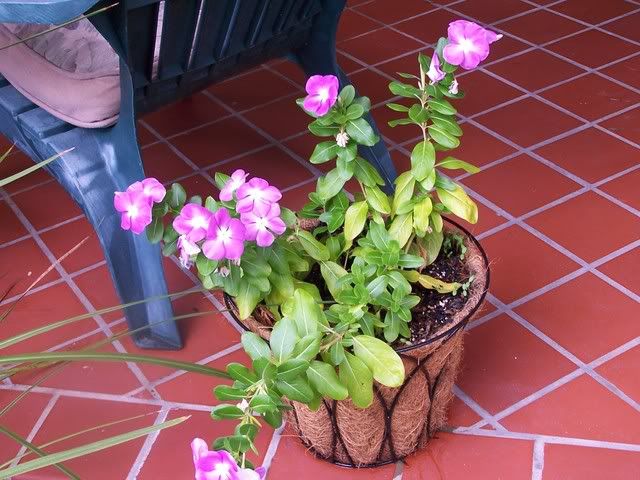 Whatever it is, it looks nice, but needs to be trimmed regularly to keep from getting too leggy. It was part of one of those mixed bowls from Lowe's. It had some other stuff including vincas (still doing OK) and impatiens. Why they put those two plants, with such opposite-spectrum needs, is beyond me!! But it was only 10 bucks and we enjoyed it.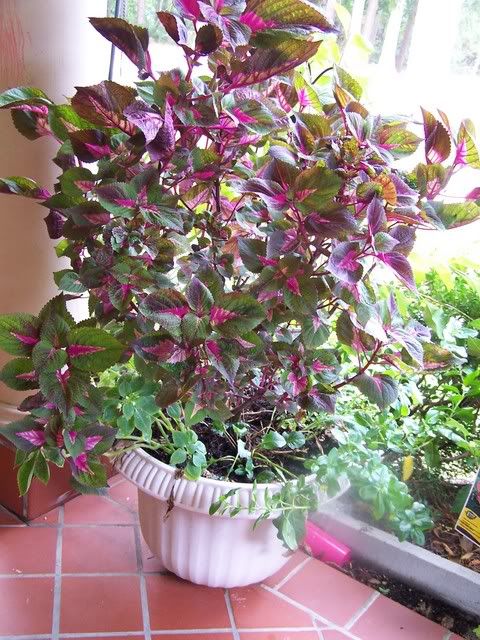 These, I rescued from my back patio where they had been forgotten and neglected. They're supposed to have light sun and plenty of water, and were in full sun and no water for over a YEAR. I can't believe they lived!
Angelwing begonia:
Variegated Hibiscus:
This one hasn't flowered at all that I've seen. Garden Center says repot and fertilize. Still on the to-do list.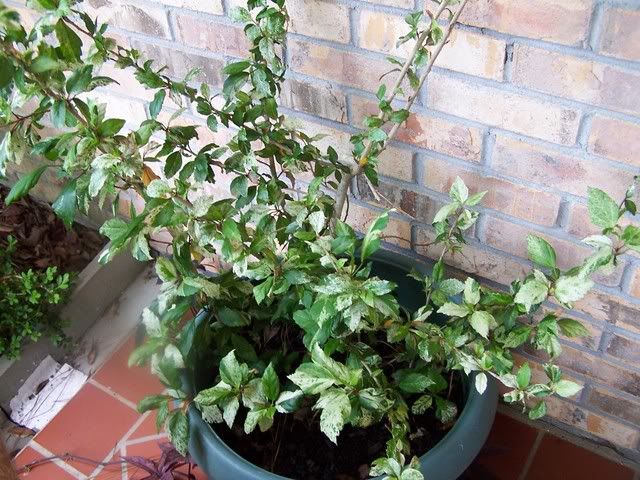 Finally, this is my porch after cleaning it up. I love it! We replaced the regular lights with ceiling fans and got some nice furniture. It's one of my favorite places!
This is the side we usually sit on, to the left of the front door:
The bench on the end is actually a glider and my early birthday present for this year. Big Kid works at the pool store and called H when it went on 50% off clearance (plus his discount. yay)
The right side of the door:
And this will just give an idea of the whole front (it's from last year so things have been rearranged):
My front porch makes me happy. We all hang out there if the weather is nice. The little kids play there, the big kids take their guitars out there or just chill. Daddy reads bedtime stories and then we chill out with a cold beverage.
When friends call me I take it out there to chat.
This fall I will be working to transform my junk room back into a sunroom, and the back mud pit back into a garden. I want to post pics of how it looks now but would rather end this entry on a happy note!
Porch still makes me happy. :)